The Spiral: The Universe Behind My Creations
Infused with the culture of Lebanon where I was born, its fragrances and the thousand and one images that this place evokes... my memories transport me to my grandfather's wrought-iron factory. Then sway me into the vertigo of oriental dances whose swirling movement of hips and veils ... inspires the spirals, swirls and curves of the jewelry I create. Having studied architecture, my passion for dance took over, and my different collections are born from this unexpected fusion.
My Montmartre hoops were inspired by an endless "eight"… or lascivious hip swaying. Below: An extract from the video of Tahia Carioca who divinely interpreted this movement.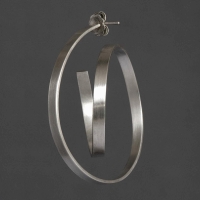 Montmartre (June) Earring 2003
While my Satellite earrings were inspired by "Satellit Café" in Paris where I went dancing every week to world music. No reference to the stars except those I met on the dance floor, a colorful world of mixed cultures united in the same whirlwind of music.
The quest for inspiration is full of obstacles and each artist grows in the development of their own universe, their own aesthetic code. The swirl inspired my spirals, a pattern that I have renewed and transformed in different directions for more than 20 years. An unexpected marriage between movement and structure. A work on the curve redefined by minimalist architecture. This inspiration feeds my every object and defines my style – abstracting the original form into a novel, unique, contemporary object. Original pieces that I sculpted and for many years, were displayed in prestigious galleries.
Artists communicate through their creations, this is how they exist. Art as a profession, however, requires total commitment, which is often rough without backup and when the original creations become the source of inspiration for others. Nonetheless, artistic creation is a state of constant renewal.